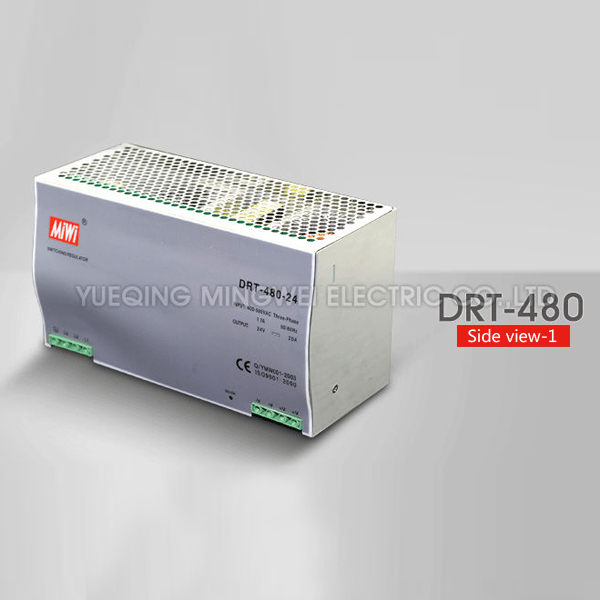 DRT-480
DR series
Print This Page
In the favorites
E-Mail : maggie-liu@yqmingwei.com
PDF : Download Technical Documents
Product Overview
Send Inquiry
1.Features:

Three-Phase AC 340 ~ 550V wide range input
High efficiency 89% and low dissipation
Protections: Short circuit/Over load/Over voltage/Over temperature
Cooling by free air convection
Built-in constant current limiting circuit
Can be installed on DIN rail TS-35/7.5 or 15
100% full load burn-in test
2 years warranty

2. Specification

Model

DRT-480-24

DRT-480-48

OUTPUT

DC Voltage

24V

48V

Rated Current

20A

10A

Current Range

0 ~ 20A

0 ~10A

Rated Power

480W

480W

Ripple & Noise (max.) Note.2

80mVp-p

80mVp-p

Voltage Adj. Range

24 ~ 28V

48 ~ 55V

Voltage Tolerance Note.3

±1%

±1%

LINE REGULATION

±0.5%

±0.5%

LOAD REGULATION

±0.5%

±0.5%

Setup, Rise Time

1200ms, 40ms/400VAC 800ms, 40ms/500VAC at full load

Hold Up Time

16ms/400VAC 35ms/500VAC at full load

INPUT

Voltage Range Note.5

Three-Phase 340 ~ 550VAC (Dual phase operation possible) 480 ~ 780VDC

FREQUENCY RANGE

47~63Hz

AC Current

1.7A/400VAC 1.3A/500VAC

Efficiency

89%

90%

Inrush Current

COLD START 50A

LEAKAGE CURRENT

<3.5mA /530VAC

PROTECTION

Over Load

105%~150% rated output power

Protection type: Constant current limiting, recovers automatically after fault condition is removed

Over Voltage

30 ~ 36V

59 ~ 66V

Protection type : Shut down o/p voltage, re-power on to recover

OVER TEMPERATURE

110°C±5°C(TSW1) detect on heatsink of power switch

Protection type : Shut down o/p voltage, recovers automatically after temperature goes down

ENVIRONMENT

Working Temp.,

-20°C~+70°C; (Refer to "Derating Curve")

WORKING HUMIDITY

20 ~ 90% RH non-condensing

Storage Temp., Humidity

-40°C~+85°C; 10%~95%RH

Temp. Coefficient

±0.03%/°C(0~50°C)

Vibration

10~500Hz, 2G 10min./1cycle, period for 60min, each along X, Y, Z axes

SAFETY

Withstand Voltage

I/P-O/P:3KVAC I/P-FG:1.5KVAC O/P-FG:0.5KVAC

Isolation Resistance

I/P-O/P, I/P-FG, O/P-FG:100M Ohms / 500VDC / 25°C / 70% RH

EMC EMISSION

Compliance to EN55011, EN55022 (CISPR22) Class B, EN61000-3-2,-3

EMC IMMUNITY

Compliance to EN61000-4-2, 3, 4, 5, 6, 8, 11, EN55024, EN61000-6-2, EN61204-3, heavy industry level, criteria A

OTHERS

MTBF

91.1K hrs min. MIL-HDBK-217F (25°C )

DIMENSION

227*125.2*100mm (W*H*D)

3. Mechanical Dimension:


4.Block Diagram


5.Derating Curve


6.Static Characteristics


7.Please Note:

1. All parameters NOT specially mentioned are measured at 400VAC input, rated load and 25 of ambient temperature.
2. Ripple & noise are measured at 20MHz of bandwidth by using a 12" twisted pair-wire terminated with a 0.1uf & 47uf parallel capacitor.
3. Tolerance : includes set up tolerance, line regulation and load regulation.
4. The power supply is considered a component which will be installed into a final equipment. The final equipment must be re-confirmed that it still meets EMC directives.
5. Dual phase operation: derating of 20% is required.






If you have any enquiry about quotation or cooperation, please feel free to email us at maggie-liu@yqmingwei.com or use the following enquiry form. Our sales representative will contact you within 24 hours. Thank you for your interest in our products.