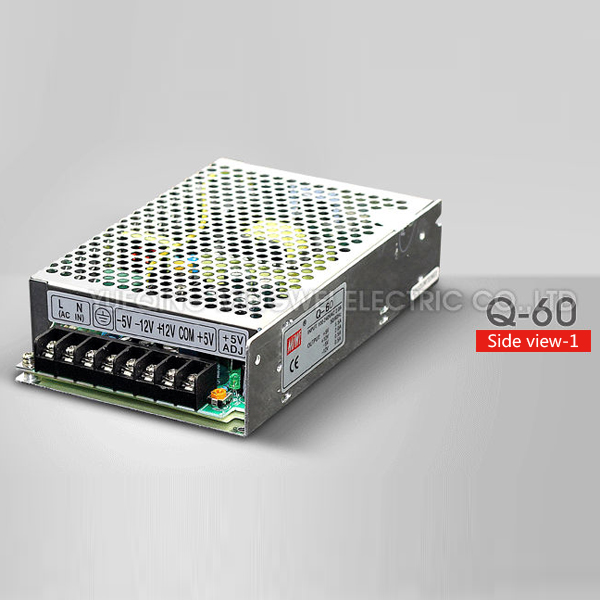 Q-60
Quad output series
Print This Page
In the favorites
E-Mail : maggie-liu@yqmingwei.com
PDF : Download Technical Documents
Product Overview
Send Inquiry
1.Features

1. Low price and high reliable.
2. 105 `C output capacitor
3. AC input power suitable for the world
4. High efficiency and how operation temperature.
5. Soft-start current can reduce the AC input impact effecticly.
6. With short-circuit and overload protection.
7. Compact size, light weight.
8. 100% full-load buming test.
9. installed with EMI filter, minmum wave.

2. Specification

Model
Specification

Q-60

DC Output Voltage

5V

12V

`-5V

`-12V

Iutput Voltage Error

± 2%

± 6%

± 5%

± 5%

Rated Output Current

5.5A

2A

0.5A

0.5A

Output Current Range

0-5.5A

0-2A

0-0.5A

0-0.5A

Tripple and Noise

100mVp-p

120mVp-p

100mVp-p

100mVp-p

Iniet Stability

± 0.5%

± 0.5%

± 0.5%

± 0.5%

Tolerance Voltage

± 0.5%

± 4%

± 1%

± 1%

DC Output Power

60W

Efficiency

70%

70%

70%

70%

Adjustable Range for DC Voltage

± 0.5%

± 4%

± 1%

± 1%

AC Input Voltage Range

85~132VAC/170~264VAC selected by switch 47~63Hz; 240~370VDC

Input Current

1.3A/115V 0.8A/230V

AC Inrush Current

Cold-Start Current: 18A/115V, 36A/230V

Leakage Current

<1mA/240VAC

Overload Protection

105%~150% Type: Foldback Current Limiting, Reset: Auto Recovery

Over Voltage Protection

…………

High Temperature Protection

…………

Temperature Coefficient

± 0.03% /℃ (0~50℃)

Start, Rise, Hold time

1.6s, 20ms, 12ms/ 115VAC 800ms, 20ms, 60ms/ 230VAC

Vibration

10~500Hz, 2G 10min,/1cycle, a total of 60 minutes, Each axes

Withstand Voltage

Between Input and Output: 1.5KVAC, Input and Shell: 1.5KVAC, Output and Shell: 0.5KVAC

Isolation Resistance

Input and Output Intermal: Input and Enclosute, Output and Enclosure: 500VDC/100M Ohms

Working Temperature and Humidity

`-10℃~+60℃ (Refer to Output Derating Cutve), 20%~90%RH

Storage Temperature and Humidity

`20℃~+85℃, 10%~95%RH

Overall Dimension

159*97*38 mm

Weight

0.55 kgs

Safety Standards

Meet UL 1012 requirement (Not apply for the mark)

EMC Standards

Meet FCC Part 15J Conduction class B

3. Mechanical Dimension


4.Please Note

1. The testing condition for the parameter above is: 230VAC input, rated load, 25℃ 70%Rh, Humidity.
2. Error, include the setting error, line stability and load stability.
3. Wave test: adopting "A12" double wire for 20MHZ, and 0.1uF&uF capacitor short-circuit for interrupting.
4. Inlet Voltage Stability test: when is over load, the lowest voltage of inler is representative to the highest voltage.
5. Load stability test: the load is from 0% to 100%, others 60%.
6. Total stability test: the load is from 0% to 100%, others 60%.
7. C2,3,6 must be knocked down.





If you have any enquiry about quotation or cooperation, please feel free to email us at maggie-liu@yqmingwei.com or use the following enquiry form. Our sales representative will contact you within 24 hours. Thank you for your interest in our products.