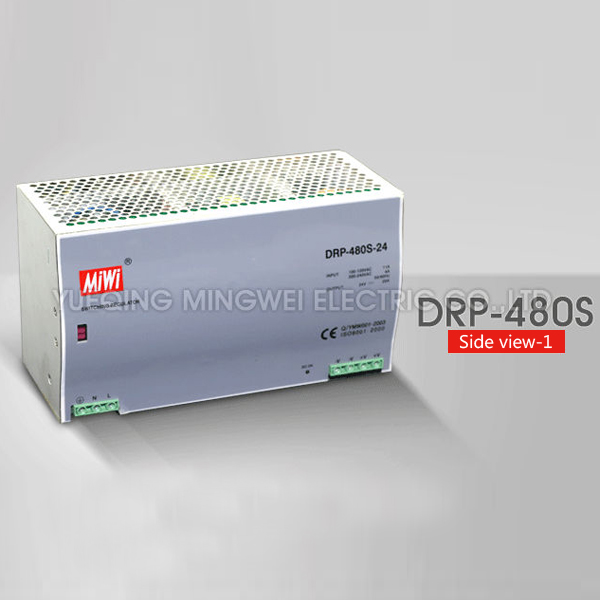 DRP-480S
DR series
Print This Page
In the favorites
E-Mail : maggie-liu@yqmingwei.com
PDF : Download Technical Documents
Product Overview
Send Inquiry
1.Features

AC input range selectable by switch
Built-in passive PFC function compliance to EN61000-3-2
High efficiency 89% and low dissipation
Protections: Short circuit/Over load/Over voltage/Over temperature
Cooling by free air convection
Built-in constant current limiting circuit
Can be installed on DIN rail TS-35/7.5 or 15
100% full load burn-in test
2 years warranty

2.SPECIFICATION

Model

DRP-480S-24

DRP-480S-48

OUTPUT

DC Voltage

24V

48V

Rated Current

20A

10A

Current Range

0 ~ 20A

0 ~10A

Rated Power

480W

480W

Ripple & Noise (max.) Note.2

120mVp-p

120mVp-p

Voltage Adj. Range

24 ~ 28V

48 ~ 55V

Voltage Tolerance Note.3

±1%

±1%

LINE REGULATION

±0.5%

±0.5%

LOAD REGULATION

±1%

±1%

Setup, Rise Time

1200ms, 40ms/230VAC,115VAC at full load

Hold Up Time

23ms/230VAC,115VAC at full load

INPUT

Voltage Range

90 ~ 132VAC/180 ~ 264VAC by switch 254 ~ 370VDC

FREQUENCY RANGE

47~63Hz

POWER FACTOR (Typ.)

>=0.7/230VAC only

AC Current

8A/115VAC 3.2A/230VAC

Efficiency

89%

Inrush Current

COLD START 27A/115VAC 45A/230VAC

LEAKAGE CURRENT

<3.5mA /240VAC

PROTECTION

Over Load

105%~150% rated output power

Protection type: Constant current limiting, recovers automatically after fault condition is removed

Over Voltage

30 ~ 36V

59 ~ 66V

Protection type : Shut down o/p voltage, re-power on to recover

OVER TEMPERATURE

100°C±5°C(TSW1) detect on heatsink of power switch

Protection type : Shut down o/p voltage, recovers automatically after temperature goes down

ENVIRONMENT

Working Temp.,

-20°C~+70°C; (Refer to "Derating Curve")

WORKING HUMIDITY

20 ~ 90% RH non-condensing

Storage Temp., Humidity

-40°C~+85°C; 10%~95%RH

Temp. Coefficient

±0.03%/°C(0~50°C)

Vibration

10~500Hz, 2G 10min./1cycle, period for 60min, each along X, Y, Z axes

SAFETY

Withstand Voltage

I/P-O/P:3KVAC I/P-FG:1.5KVAC O/P-FG:0.5KVAC

Isolation Resistance

I/P-O/P, I/P-FG, O/P-FG:100M Ohms / 500VDC / 25°C / 70% RH

EMC EMISSION

Compliance to EN55011, EN55022 (CISPR22) Class B, EN61000-3-2,-3

EMC IMMUNITY

Compliance to EN61000-4-2, 3, 4, 5, 6, 8, 11, EN55024, EN61000-6-2, EN61204-3, heavy industry level, criteria A

OTHERS

MTBF

187.9K hrs min. MIL-HDBK-217F (25°C )

DIMENSION

227*125.2*100mm (W*H*D)

3.Mechanical Specification


4.Block Diagram


5.Derating Curve


6.Output Derating VS Input Voltage


7.Please Note

1. All parameters NOT specially mentioned are measured at 230VAC input, rated load and 25 of ambient temperature.
2. Ripple & noise are measured at 20MHz of bandwidth by using a 12" twisted pair-wire terminated with a 0.1uf & 47uf parallel capacitor.
3. Tolerance : includes set up tolerance, line regulation and load regulation.
4. The power supply is considered a component which will be installed into a final equipment. The final equipment must be re-confirmed that it still meets EMC directives.





If you have any enquiry about quotation or cooperation, please feel free to email us at maggie-liu@yqmingwei.com or use the following enquiry form. Our sales representative will contact you within 24 hours. Thank you for your interest in our products.